The fastest way to get Service Password for CT Scanner, MRI Scanner and others
-- You may receive password in ONE hour! *
(
Ask Online
)

[ Manufacturers | CT Scanner | MRI Scanner | Other Scanners | Success Stories | FAQ | Contacts ]
Angiography | Magnetic Resonance | Computed Tomography | Cardiology |
Mammography | Radiography | Surgery | Ultrasound | Urology
DX Scanners - Radiography Scanners (Digital X-Ray)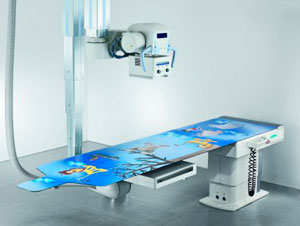 Radiography is the most routine form of medical imaging. Radiography using X-Rays to view a non uniformly composed material such as the human body. By utilizing the physical properties of the ray an image can be developed displaying clearly, areas of different density and composition.
The most obvious: with the immediate availability of digital images, radiographic examinations are generally conducted much faster. This is particularly crucial for examinations where time is critical.
Fully digital images are immediately processed. This results in far fewer over and underexposures than with conventional film-based exposures.
Tags: DX, X-Ray
SIEMENS
PHILIPS
GE Healthcare (General Electric)
TOSHIBA
* All orders for Service Passwords and Codes are proceeded through e-mail. Please specify what is interested and required for you, and we will contact you in 24 hours.
* Actual for most of the SIEMENS Service Password and some of GE License Options. Service Keys and Service Passwords for scanners of other manufacturers may be provided in longer time. Delivery time is depend on some parameters that explained before order processing.
---
Copyright © 1996-2017, Service Password Ltd. All rights reserved.